Losing someone we love is one of the most painful life experiences. Though the grieving process may take some time, everyone copes in different ways. For a 4-year-old from San Antonio, Texas, the popular Pixar movie "Coco" helped him do just that. 
MORE: Pixar's New Movie 'Coco' Pays Homage to Día de los Muertos and Challenges Trump
The toddler named Alexander celebrated his late sister's birthday by serenading her alter with the hit song "Remember Me" from the animated film. With a toy guitar in his hands, the boy, who bared a striking resemblance to the Miguel from the movie, melted our corazones as he sang the track. Lucky for us, his parents, Samir Deais and Stephanie Deais, caught the tear-jerking moment and shared the video online.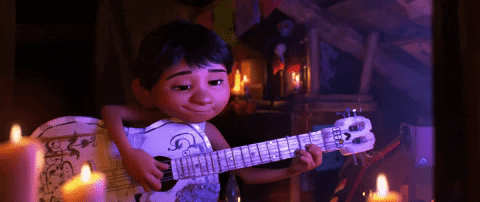 PLUS: Video of Father Gifting Son Toy That Plays Late Mother's Voice Will Make You Weep for Days
The 4-year-old's parents told MySanAntonio, they lost their 4-months-old daughter back in May from hydronephrosis, a condition that causes kidney swelling due to a build-up of urine. Though it's been less than a year since their hija passed away, they credit "Coco" for helping their son cope with the loss of his baby sister.
Since sharing the video on Tuesday, it has over 120 thousand likes and over 46K retweets. 
Grab some tissues and watch the video below:
My son singing "Remember Me" from the movie "Coco" to his baby sister, Ava, who we lost this past May.

He's only 4 years old and he understands. He didn't even know he was being recorded. He just wanted to sing to her for her 1st birthday!

Happy Birthday mamas, we miss you! pic.twitter.com/EoVLjju0bJ

— Samir (@SAM1R) December 31, 2017