Yass Queen! All hail Cardi B as she breaks barriers in the music industry yet again! 
MORE: Cardi B's Killer One-Liners Made Jimmy Fallon Laugh And Do Bird Noises On 'The Tonight Show'
Just when you thought the Bronx native had a groundbreaking 2017, she's just getting started. On Tuesday, Billboard announced that the 24-year-old's is the first solo female rapper to earn the top spots on the Billboard Hot 100 with three singles in a row.
Here's why this is a huge deal for the Hispanic community. In less than a year, the reality TV personality turned rap icon became the first solo female rapper in 20 years to land a top spot on the well-respected charts of Billboard. 
Not only did the Caribbean beauty make history with her English bars, remember her track La Modelo with Reggaeton Artist, Ozuna? Well, the tropical trap beats are claiming a spot on the Billboard Hot 100 too! 
There's a reason everyone's playing G Eazy's No Limit, Migos' Motorsport, and of course Bodak Yellow --- they all have the lyrical magic of the talented hip-hop star. Did we mention that the famous words of her money making hit Bodak Yellow is still on the top ten list for the 25th weeks in a row?!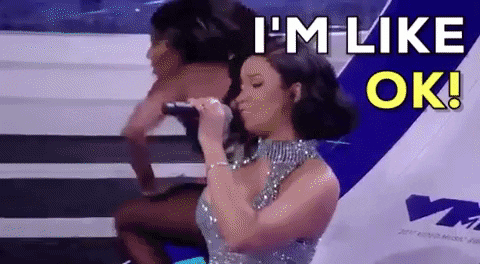 Of course, one of the reasons fans love the newly engaged artist is because of her raw and realness. So in truth Cardi tradition, the MotorSport star took to social media to thank everyone for her success. 
PLUS: 5 Reasons Why We All Love Cardi B
What's your favorite Cardi track? We can't stop listening to La Modelo by Ozuna ft Cardi B, keep killin' the game! 
Rapa pa pai, rapa pa pai! Dances into 2018....