The 90th Academy Awards celebrated diversity in a big way! One of the early performances of the night was by Mexican trio, Gael Garcia Bernal, Miguel, and Natalia LaFourcade.
MORE: 2018 Oscars: Pixar's 'Coco' Wins Best Animated Feature & We're So Proud!
Eugenio Derbez presented the performance reminding us that "in the afterlife, there are no walls."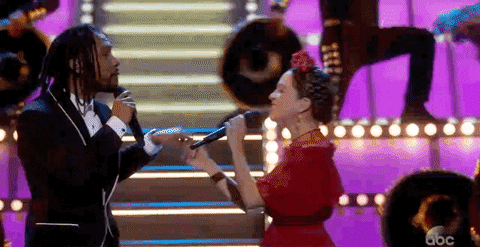 Mexican-born actor Bernal led the performance singing Coco's "Remember Me," as he did in the movie.  Soon after, singers Miguel and Natalia LaFourcade emerged, singing in English and Spanish, respectively. They are both featured artists in the film's official soundtrack. The colorful stage, filled with dancers in traditional Mexican clothing, plays homage to Mexico.
PLUS: Miguel And Natalia Lafourcade Singing The Theme Song To 'Coco' Will Melt Your Heart (WATCH)
Coco is officially an Oscar winner for best-animated film and in the words of Oscar Isaac, "VIVA LATINOAMÉRICA, COCO!!!" Watch the performance above.