Natural hair is becoming a global movement and it's empowering Latinas to embrace their roots. 
MORE: This Is Exactly How to Style Your Naturally Curly Hair
For decades, women with wavy, curly, or coily hair were labeled as women who had "pelo malo," and as a community, we created a false beauty standard around our hair. Because of this many used chemicals such as perms or relaxers to smooth and tame our natural locks, while others straighten their hair because they felt it looked "professional" or "presentable." But over time some embraced their roots and changed their mindsets.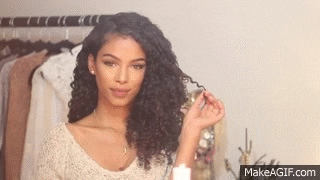 Due to the high demand for chemical-based perms and relaxer on the market, naturalistas struggled to find products for their mane. Most would make-at-home DIY deep conditioners and serums using ingredients such as avocados, olive oil, shea butter to provide moisture and shine to one's hair. Afro-beauties used their locks to showcase Hispanics' and Blacks' beauty diversity, cultural empowerment, and fierceness in a badass way! Though the natural hair movement was growing, several mainstream beauty buys still catered to straightening, chemically treating, and changing one's texture. 
PLUS: 5 Celebrity-Inspired Styles to Try for Natural Hair
Thankfully, today more Latinas are embracing their natural-born curly or coil patterns. Eventually, the mass market caught the power of the natural hair movement on social media and began creating more organic-based products. Despite well-known hairlines creating natural hair collections, female entrepreneurs are taking matters into their own hands. Meet Founder & CEO of Honey Baby Naturals, Aisha Ceballos-Crump who started her career in chemical engineering and used her passion for natural hair to open a beauty business. 
"The natural hair movement speaks to a women's truth, freedom, and individuality. It bonds us as females. " -Aisha Ceballos-Crump
"I was born and raised in Gary, Indiana and I am second generation Puerto Rican born in the US. Both my maternal and paternal grandparents migrated to the mainland for better opportunities in the steel industry," said the mother-of-two. The mompreneur remembers visiting her wela (grandmother) and admiring her long thick black hair and beautiful skin. She recalls the one ingredient her grandma used to add moisturize and hydration to her healthy skin and hair was honey. The Puerto Rican beauty then used her business name to honor her abuela. 
We caught up with mother-of-three, wife, Founder & CEO and brilliant businesswoman Aisha Ceballos-Crump below on her product development, treating a child's texture hair, her influences and more. 
PLUS: Ready to Go on a Natural Hair Journey? Here's What You Need to Know
How did you come up with the name Honey Baby Naturals? 
I knew that honey "miel" would be the key ingredient. Before honey was really a buzz ingredient, I did tons of research and understood the health benefits. I understand and saw how it helps to heal psoriasis and stimulates hair growth. It's a natural sugar and is a good source of moisture for the hair. I wanted to play off the term of endearment, "Honey Baby." I wanted it to evoke the feeling of family, love, and familiarity, not only with the ingredients but with the name and packaging.
​​​​​​Describe the first moment, you realized you had something the market was missing? How did you begin making the products
I've worked in the beauty industry for more than 15 years, where I worked in product development for a number of major companies on multicultural projects as well as consulting on the development of their brands. And as a result, I had a cabinet full of products but no one would meet the needs of my multicultural family. I am Puerto Rican and my husband is African American and we have three kids. We all have different hair types and textures. What would work on my hair, which is very fine, would not work on my daughter's hair, which is very thick and curly. Being a busy, working mother and wife, I needed a product that would simplify our lives, something safe and effective for the entire family. So I started making hair and skin masques at home using honey for my family. I loved the results and it reminded me of the results from my grandmother. My daughter's eczema cleared up, middle daughter's chlorine-ridden hair was now moisturized and my son's curls were revived from all the dye. 
What advice would you give to mothers who are having a hard time working with their child's different hair texture?
It's important to stay away from products with harsh chemicals such as sulfate, which strips the hair from its natural state and moisture.  Understanding what you apply to your child's hair and skin is very important to their overall health, hence why I wanted to provide the best ingredients for my consumers (kids and families). I didn't want any parabens or negative ingredients in my products. I use alternatives such as coconut oil, avocado oil, and shea butter. Educate yourself to understand that products that are rich in natural ingredients perform higher than synthetic products. Finally, I would advise mothers to embrace their child's hair texture and teach them the uniqueness of its appearance and texture. 
What makes your natural hair product different from others on the market? 
It's the only collection of hair and skincare products that use honey to carry a core platform of Hydrate, Heal and Protect. This makes the line ideal for all hair types and textures. The line has natural and safe ingredients for the entire family, so for mom, da, and the kids as well. Once anyone tries Honey Baby Naturals products, they never want to use anything else for themselves or their families.  I spent an entire year perfecting these formulas so that they deliver maximum results.
Why is the KNOT MY HONEY Detangler your bestseller? 
It's all about the key technology of the honey and silk protein. The honey enriches the hair with natural vitamins and sugars for added moisture, while the silk protein coats the hair for increased strength which makes combing easier. I get lots of testimonials from curlies, waves and type 4 hair naturals all saying, "You have made my life so much easier" and that was one of my primary goals in creating it. The leave-in conditioner doesn't weigh down the hair and helps to remove the knots and tangles easily while leaving a light film on the hair to coat it, protect it, and give it shine. Honey Baby Naturals, KNOT MY HONEY Detangler, $11, target.com.
What are your thoughts on the natural hair movement? How have you empowered your children to embrace their texture?
The natural hair movement speaks to a women's truth, freedom, and individuality. It bonds us as females. From entrepreneurs to influencers to consumers, we speak the same language. We have the same struggles and it's what connects us. Yes, it's a sign of beauty but it's become so much more than that. It's become ingrained in our culture. My girls accompany me to trade shows and they see me juggling work and home. It makes it all worth it when I see them doing science projects on natural hair and the technology behind the products. It makes me smile when we leave a natural hair show and they are no longer afraid to embrace their curls. So yes, they see me and they are influenced by me but also empowered by the other women in this space. I just LOVE IT! 
What next for Honey Baby Naturals? 
We're expanding the line based on customer needs. Also, there will be global expansion especially reaching more Latina women and providing them with a product that will meet their growing hair needs. I believe in educating women and girls through STEM and STEAM initiatives to help them understand the science and technology behind products. Getting more mothers and their families to understand the importance of education and quality ingredients for overall health. 
MORE: Afro-Latinas Discuss Identity on FB Live: Debunking 'Pelo Malo' & Uplifting Little Brown Girls
With more Latinas earning capital in the beauty industry, many major discount store retailers such as Target are showcasing their products. Currently, the Honey Baby Naturals collection consists of seven products, four hair care products, and three skincare products which focus on the overall health of hair and skin. You may find and purchase the Honey Baby Naturals products at a local Target or at honeybabynaturals.com. Cheers to the natural hair movement!